Hi Stingrays,
Here is what you need to know for next week!
Meet Sign Up
The sign up for the NVC Hootenanny on July 7th (we are only swimming one day) will be closing Monday at 9:00pm! You can access the sign up here.
House Cup
After 2 weekends of swim meets and Bingo a leader has emerged out of the pack:
Hufflepuff – 120 points
Slytherin – 115 points,  a very close second!
Ravenclaw – 105 points
Gryffindor – 100 points
Next week is Stingray Pump-Up Week in preparation for our Super-7 swim meet. Swimmers will be given 5 points each day they participate in the activities and these points will go towards the race for House Cup Champion!
Update: The Scavenger Hunt is being moved from Wednesday, June 20th to another evening  that is TBD. As soon as it is scheduled you will be notified!
Stingray Pump-Up Week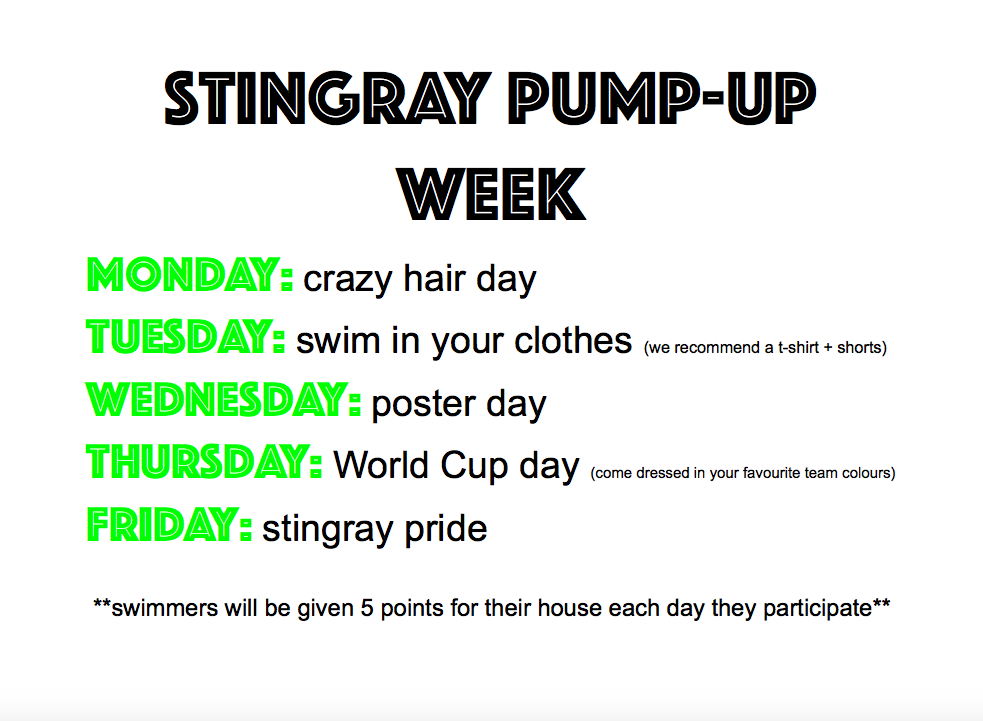 Team Practice
Next Friday we will be hosting our 2nd team practice of the season! Everyone is encouraged to come out and participate including seniors. We will be reviewing/learning some of our older cheers and having a House Cup cheer off! Team Practice will be starting at 4:00 and will finish up at 5:30pm.
Note: Little Stingrays will be participating in their regularly scheduled practice at 3:15 pm and at 4:00 pm. At 4:00 they will join the rest of the club for cheers until 4:30pm. After cheers are completed the Little Stingrays will be dismissed.
Volunteer Coaches Clinic
Next Friday from 3:30-4:00 pm Coach Alexa and Coach Holly will be running a short clinic that all volunteers must attend! We will be reviewing some important skills for helping swimmers in water.
T-Shirts and Caps
If you are after a new stingrays t-shirt, good news there are still some left for sale! If you would like one to match your kids or an extra one for your child please contact Kelly White at registrar@ladnerstingrays.com . There are also still some of our NEW caps for sale as well!
Bronze Medallion/Bronze Cross
Attention all Div 3+ swimmers! This year at the Outdoor Pool the Corporation will be hosting some lifesaving courses. You will need to take these courses should you one day want to be a lifeguard or a coach for our club! Delta is hoping to have some Stingrays sign up so they will have full classes with good swimmers, and we are hoping some Stingrays sign up so we can have some trained swimmers!
Bronze Medallion/Bronze Cross Combination Camp: July 16-26, 10:00 am – 3:00 pm; age requirement is 13 (registration barcode 404319)
National Lifeguard: Aug. 14-24, 9:00 am – 3:30 pm; age requirement is 16 (registration barcode 412854)