We are currently seeking an Assistant
Coach for the 2019 swim season. Job description can be found under "Coaching Applicants".
Online registration for the summer swim season will open to returning swimmers February 23. New swimmer registration will be online this year and will open March 2.
Winter Maintenance runs October 10- April 7. Please see practice schedules for your swimmers practice dates.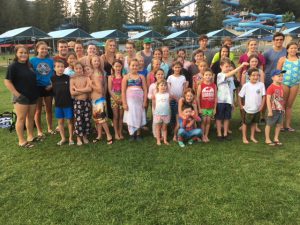 Another awesome adventure at Cultus Lake Waterslides. Perfect way to wrap up a fabulous season!
Hi Stingrays,
Here is everything you need to know in the upcoming week!
Regionals
Please click here to view our final entries for this weekend. Please keep in mind our club policy regarding Regionals, in particular  Regional Relays, which you may view here.
Please click here to view the Regional relay teams.
A reminder there are NO PRACTICES taking place tomorrow, Friday August 3rd, as your coaching staff will be at the Regionals meet! This includes morning practices.
Stingrays Awards Night & Potluck
Will be taking place on Wednesday, August 8th at Memorial Park, beginning at 6:00pm! A google doc has been sent out via email for the Potluck.
Final Practices & Holidays
Here are the dates for the final practices of the season for our non-Provincial Qualifier swimmers:
Little Stingrays: Wednesday, August 8th
Regular Program Stingrays: Thursday, August 9th
Masters: Monday, August 13th
Additionally, a reminder there are no practices taking place on BC Day, August 6th – enjoy the evening off!
Cultus Lake Waterslides
This is a reminder that there will be no practices Friday, August 10th as we will be heading out to Cultus Lake Waterslides for the afternoon! If you haven't already signed up please click here to access the form.