Hi Stingrays,

Here is what you need to know for next week!

Super 7 Warm-Up Times and Relays

SATURDAY:
Kalvin and Sam – Sea Turtles: 7:45 – 8:10
Kylie – Seahorses: 7:55 – 8:20
Jemma – Sea Monkeys: 7:55 – 8:20
Jemma – Seals: 8:05 – 8:30
Alexa – Starfish: 8:05 – 8:30
Holly – Jellyfish: 8:05 – 8:30
Seniors: 8:15 – 8:40

SUNDAY:
Kalvin and Sam – Sea Turtles: 8:30 – 8:55
Kylie – Seahorses: 8:20-8:45
Jemma – Sea Monkeys: 8:20-8:45
Jemma – Seals: 8:10-8:35
Alexa – Starfish: 8:10-8:35
Holly – Jellyfish: 8:10-8:35
Seniors – 8:00-8:25

Relays can be found in the email sent out by Coach Alexa earlier in the week!

This year is also the 10th Anniversary of the Super 7 so we would love to have as many of you out as possible over the course of the weekend to help celebrate this milestone! On Sunday at 3:00 pm we will be having a short celebration with speeches, cake cutting and a fun relay of alumni swimmers and parents. Make sure to stick around the meet on Sunday afternoon as it is guaranteed to be a fun time!

Team Practice Reminder
This is a reminder that tonight is our 2nd team practice of the season! Everyone is encouraged to come out and participate including seniors. We will be reviewing/learning some of our older cheers and having a House Cup cheer off! Team Practice will be starting at 4:00 and will finish up at 5:30pm.

It is also Stingray Pride Day this afternoon so come decked out in all the black and green you can find!

Note: Little Stingrays will be participating in their regularly scheduled practice at 3:15 pm and at 4:00 pm. At 4:00 they will join the rest of the club for cheers until 4:30pm. After cheers are completed the Little Stingrays will be dismissed.

Scavenger Hunt

Next Friday is our second House Cup Event of the season! We will be hosting a scavenger hunt from 6:30 – 8:00 pm and it will run around the pool, DSS, and Memorial Park. We encourage everyone to come out and participate as it is sure to be a lot of fun! The scavenger hunt will start at the LOP.
Picture Day

Next Thursday is picture day for the Stingrays, please read through all of the information below so you don't miss out!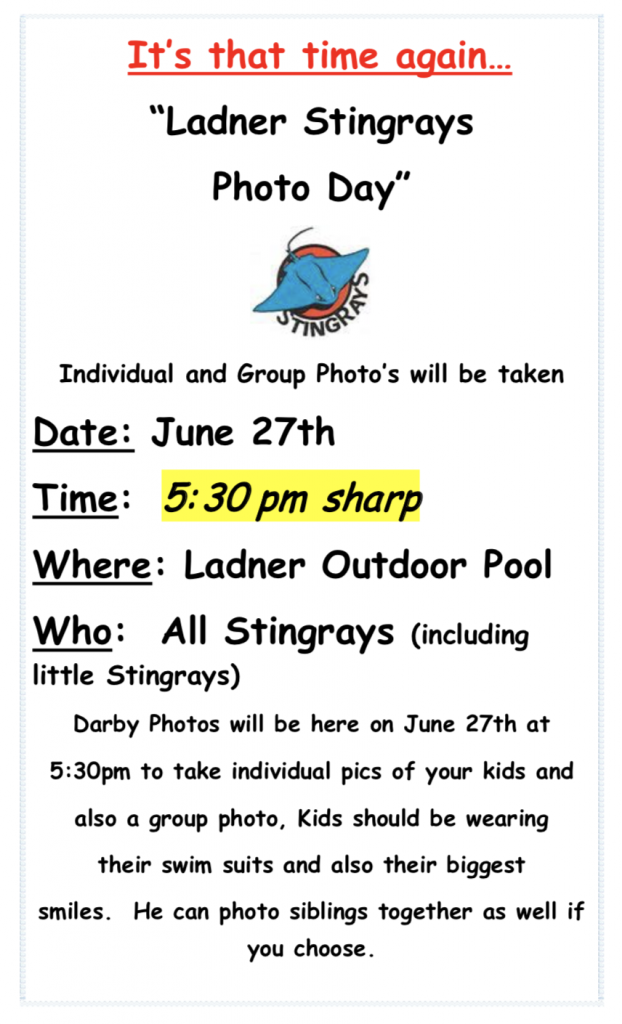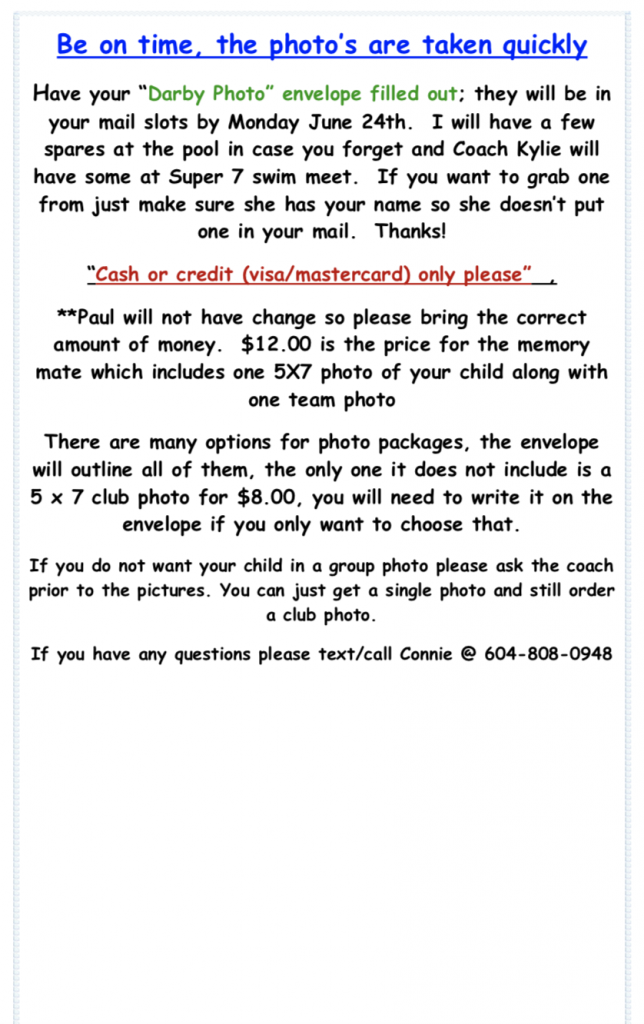 Lost and Found

The lost and found bin at the pool is filling up! We will be donating whatever is in the bin at the end of June so please make sure you come and collect any belongings of your family.

As well, we have had some flip flops go home with the wrong owner a couple of times over the past week. Please, double check that the flip flops you wore home are yours as we have a few swimmers who have had to go home barefoot from practice!