Hi Stingrays,

Here is what you need to know for next week!

Bingo Night

Reminder that tonight is our annual Bingo Night at Memorial Park! We will be starting up at 6:30 pm so please make sure you arrive on time and with a blanket to sit on. When you arrive at the park please have a look for our Stingray flag as that will be where we are located. We have some awesome prizes this year so we hope to see as many of you there as possible!

Meet Sign Up

The sign up for the Kelowna meet on July 6-7th will be closing Monday at 9:00pm! You can access the sign up here. As well, the annual Stingback Development Meet on July 3rd will also be closing at 9:00 pm on Monday. You can click here to sign-up!

Coach Alexa Away


I will be heading back east for a few days starting next Wednesday and I will be returning on Saturday evening! If you have an urgent matter that needs to be addressed while I am out of town please contact Coach Holly at holly@ladnerstingrays.com! This also applies to any urgent matters regarding the Super 7. If you feel your matter is not urgent please go ahead and still send me an email as I will be checking my inbox throughout the day.

Super 7 Tentative Entries

Attached to the weekly update email is a copy of the Super 7 Tentative Entries, please have a careful read through them and if you see something that does not look right please email Coach Alexa with the subject line Super 7 Entry Changes by 5:00 pm tonight. As well, if you have not signed up for the meet and would still like to do so this is your last chance possible! Please email Coach Alexa with the subject line Super 7 Late Entry by 5:00 pm tonight to sign up for the meet.

This year is also the 10th Anniversary of the Super 7 so we would love to have as many of you out as possible over the course of the weekend to help celebrate this milestone! On Sunday at 3:00 pm we will be having a short celebration with speeches, cake cutting and a fun relay of alumni swimmers and parents. Make sure to stick around the meet on Sunday afternoon as it is guaranteed to be a fun time!

Relays and warm-up times will be released next week!

Stingray Pump-Up Week

Next week is Stingray Pump-Up Week in preparation for our Super-7 swim meet. Swimmers will be given 5 points each day they participate in the activities and these points will go towards the race for House Cup Champion!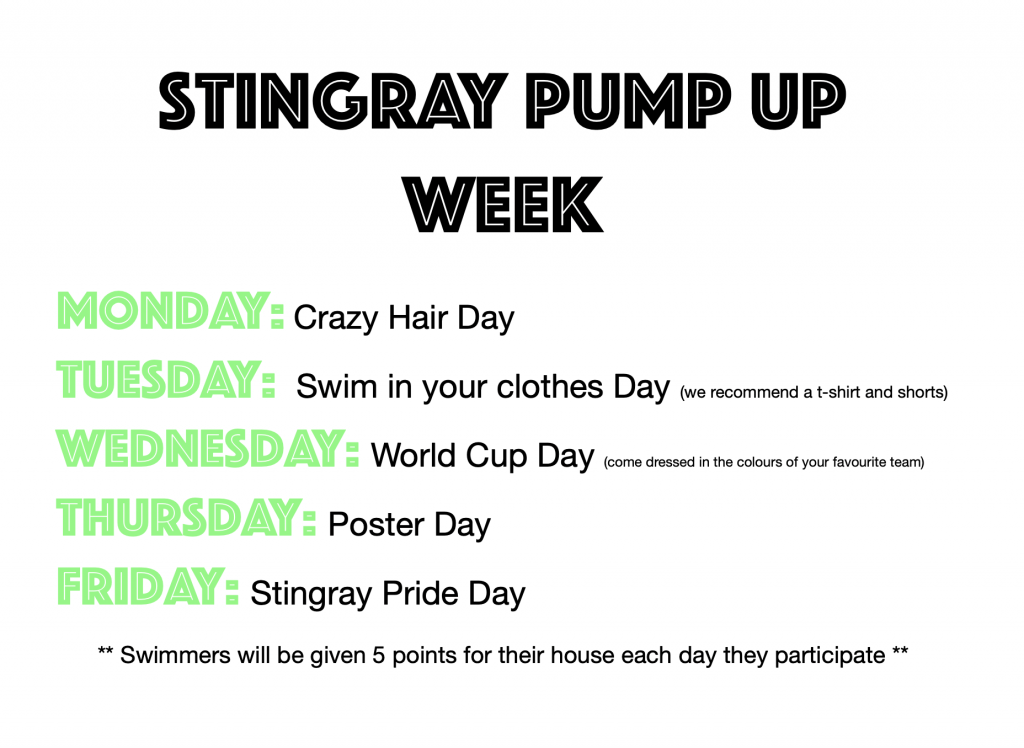 Team Practice
Next Friday we will be hosting our 2nd team practice of the season! Everyone is encouraged to come out and participate including seniors. We will be reviewing/learning some of our cheers and having a House Cup cheer off! Team Practice will be starting at 4:00 pm and will finish up at 5:30 pm.

Note: Little Stingrays will be participating in their regularly scheduled practice at 3:15 pm and at 4:00 pm they will join the rest of the club for cheers. After cheers are completed the Little Stingrays will be dismissed.

Lost and Found

The lost and found bin at the pool is filling up! We will be donating whatever is in the bin at the end of June so please make sure you come and collect any belongings of your family.

As well, we have had some flip flops go home with the wrong owner a couple of times over the past week. Please, double check that the flip flops you wore home are yours as we have a few swimmers who have had to go home barefoot from practice!