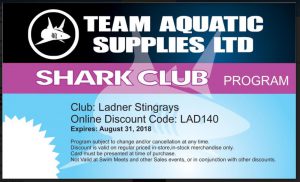 TAS is a big supporter of the BCSSA. We are 100% Canadian owned and operated. We are the official supplier to the BCSSA and exclusive Team Dealer Sponsor. Each year we contribute over $5,000 back to the BCSSA and that number will keep growing and growing with the support of local clubs. The way we run our promo/donation program, is based on yearly sales from clubs, the more a club does business with TAS, the more that we are able to give back.
The Ladner Stingrays have a coupon code for the TAS online store that gives the user 20% off on all regular priced items? Have you heard of Shark Cards? These give the card holder 20% off on all in-store purchases. We also offer a big variety of brands at many different price points for both racing suits and team suits.
Visit: http://www.team-aquatic.com/ to order your swim gear.
Be sure to use our 20% off coupon code with your shark card for in-store purchases. Your coupon code is: LAD140. A digital copy of your Shark Card was sent to all club members in an email early in the season.